All products
In the complete range of Sani Sensitive incontinence products you will find products with sensitive design, that are skin friendly while dealing efficiently with incontinence symptoms, for comfort and ease in daily life.
They are specially designed to absorb urine efficiently;  offering  hygienic protection without irritation. In addition, the complete Sani Sensitive range offers you the opportunity of combining products to best meet your needs.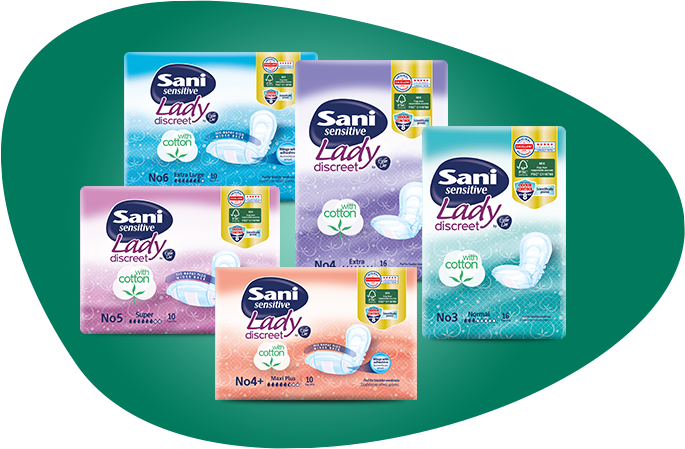 Sani Lady Sensitive discreet Light incontinence pads
Designed with super-absorbing core that effectively blocks large quantity of moisture, leaving skin dry. They have wider back and adhesive wings for extra protection and steady fit. In addition, they have special Odour Control technology in the core, they have been proven to effectively minimize odour for up to 8 hours!
Sani Lady Sensitive Pants incontinence underwear
Sani Lady Sensitive Pants are specially designed for women to offer protection from leakage, discretion, comfort and skin-friendly protection. With a special absorption technology core that blocks inside a high quantity of moisture and breathable textile topsheet. They are clinically tested with excellent results by Dermatest Laboratory (Germany). With Odour Control system in their core and lightly scented. Super-thin and discreet, with Comfi-Fit elastic technology that offers ease of movement and  perfect fit on the body. In nude color for extra discretion. They contain core from plant fibers, certified by FSC®.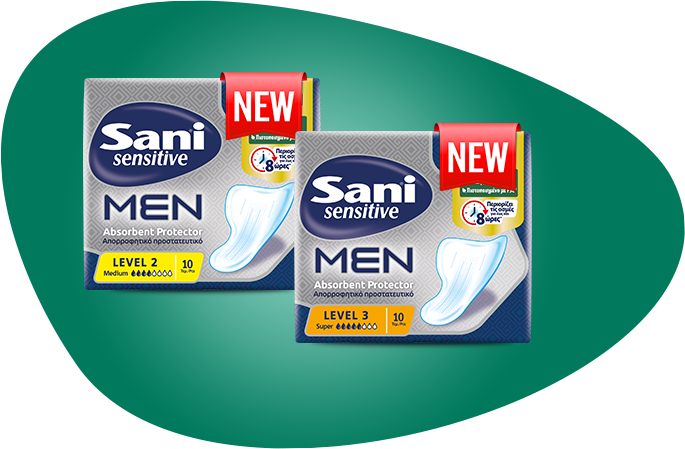 Sani Sensitive Men Absorbent protectors
Thin and discreet absorbent protective pads, designed based on male anatomy. With front adhesive wings and a total of three fixation points for very steady fit. They fit discreetly inside underwear. Specially designed to combine effective protection from leakage and unpleasant odour. Suitable for Light & Medium incontinence.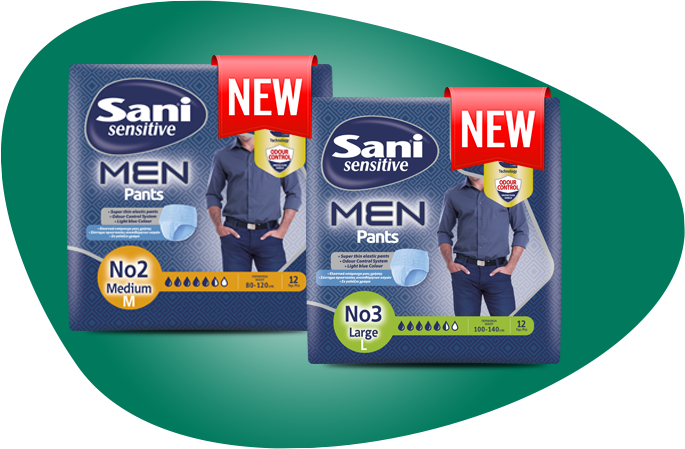 Sani Sensitive Men Pants incontinence underwear
Thin and discreet disposable elastic underwear for men. Specially designed to combine effective protection from leakage and unpleasant odour. Clinically tested with excellent results from the Dermatest Laboratory (Germany). Suitable for medium to heavy incontinence.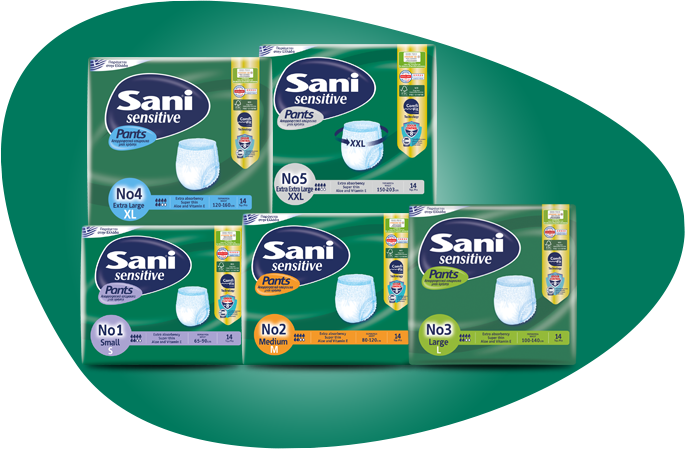 Sani Sensitive Pants Unisex incontinence underwear
Sani Sensitive Pants, elastic incontinence underwear, are specially designed to be absorbent, discreet and skin friendly. Their core is designed with special Odour Control technology, proven to effectively minimize odours for up to 8 hours! Proven skin friendliness certified by Oeko-Tex® Standard 100 for the absence of harmful substances. In addition, thanks to the new Comfi-Fit elastic technology, they are even more comfortable to wear, fitting against the body perfectly and following every movement.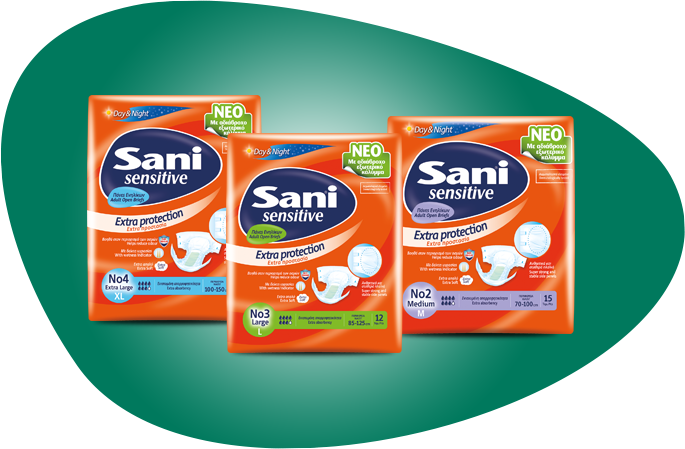 Sani Sensitive Diapers
Sani Sensitive open incontinence diapers are suitable for heavy incontinence. Featuring a Day & Night design for comfort and hygienic protection, they respect the skin and absorb high quantities of liquid, both during day and night. Their core is designed with special Odour Control technology that minimizes odours efficiently.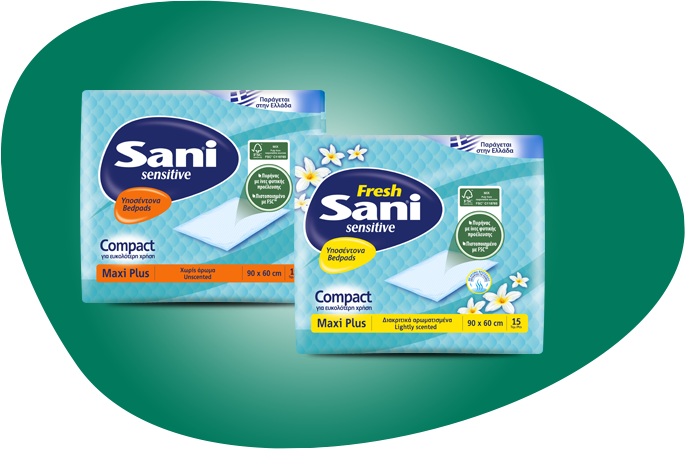 Sani Sensitive Bedpads
Sani Sensitive bedpads complement the Sani Sensitive range of incontinence products. They provide efficient protection from leakage, leaving you feeling clean.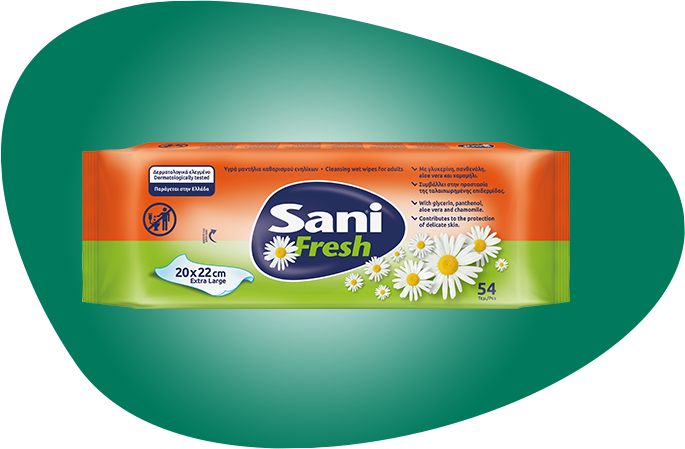 Sani Fresh Wipes
Sani Fresh wet wipes are specially designed to care for and protect the skin of adults with incontinence symptoms. They clean effectively and care for bed-ridden skin and skin that is feeling the effects of the long-term use of incontinence products.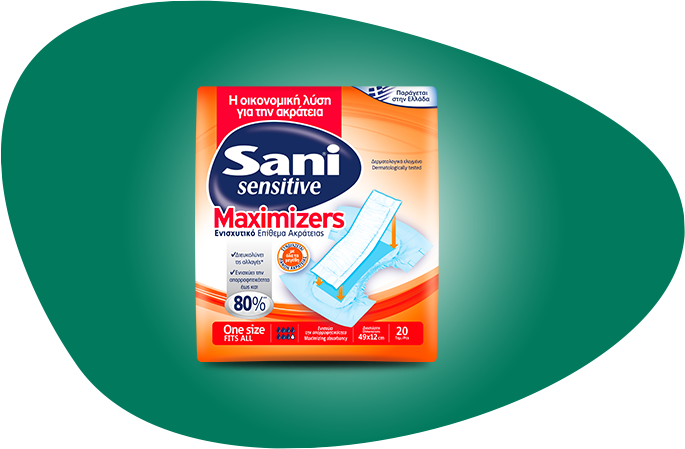 Sani Maximizers
Sani Maximizers are special booster pads that offer a revolutionary way of enhancing the absorbency of an open incontinence diaper, dramatically reducing the risk of leakage.