Sustainable development has been our priority for years
At MEGA A.E., for decades, we develop products friendly to the skin, but also to the environment. We consider that environmental protection is the biggest challenge for the coming decades.
Our focus is on creating positive impacts on key environmental issues such as: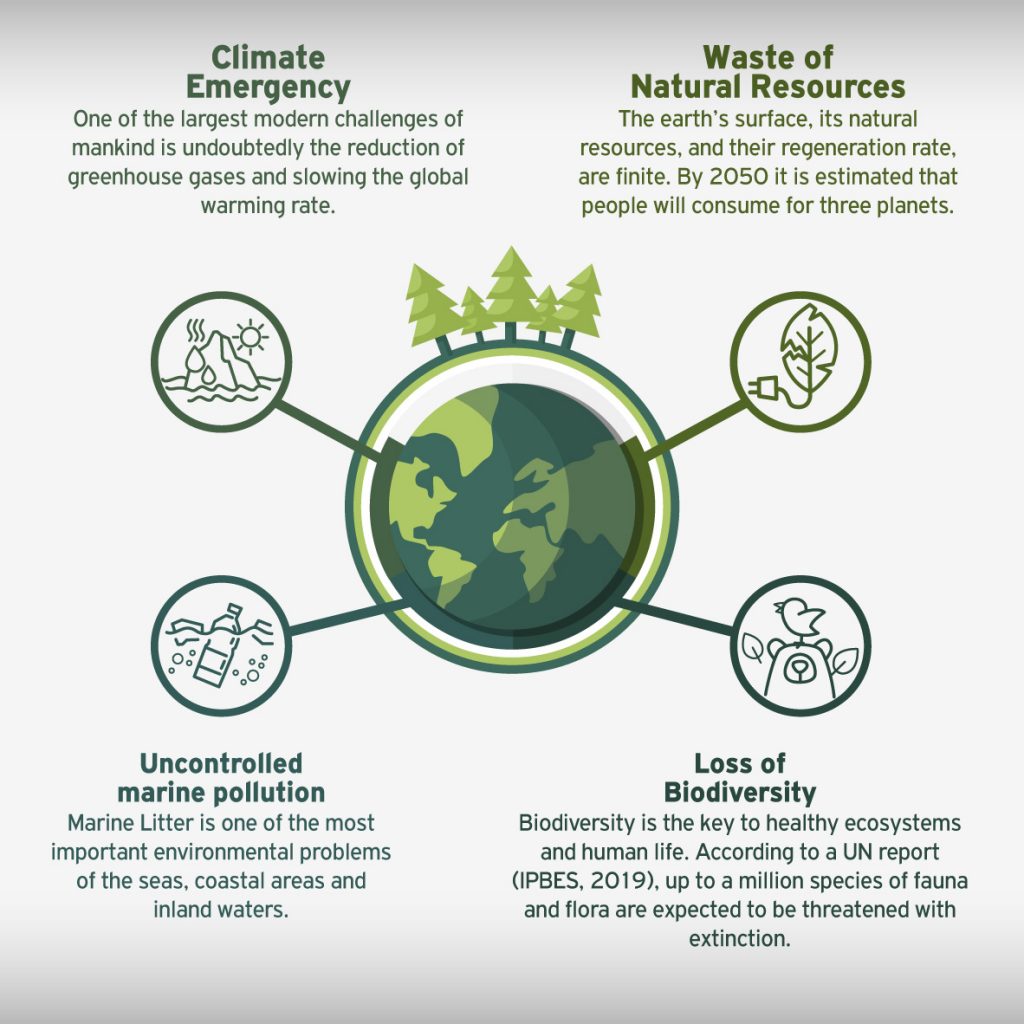 Tackling Climate Emergency, Pumping Natural Resources, the increased rate of biodiversity loss, uncontrolled sea pollution, are just a few of the key environmental challenges for which MEGA, as a leader on corporate responsibility, escalates its efforts to create a positive footprint.
Basic key in this direction is the constant redesign of our products / processes, adopting the principles of circular economy and promoting responsible consumption and product transparency at the same time.
MEGA supports efforts towards a circular economy model, invests in actions of recycling and re-use programs. Recognizing, therefore, that raw materials are not inexhaustible, we are aiming at the most efficient use of limited natural resources, continuously adopting new stringent standards on our products and processes to protect the environment and saving natural resources, inspiring with our action the awareness of our people torwards this direction.
1.Energy consumption
We believe that global climate change is the biggest challenge for the upcoming decades. For this reason, we make every possible effort to reduce energy consumption per unit of product (electricity).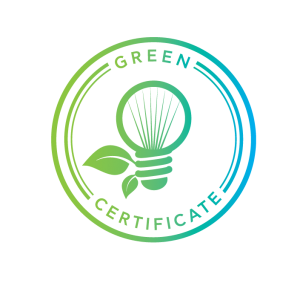 MEGA has obtained the Green Certificate, which confirms that the electricity consumed in its factory, facilities and offices comes from 100% green energy. The company has set a target to maximize RESs self-production by 2050.
2.Waste Management
As part of our environmental policy, we remain committed to the proper collection and recovery of our waste.
We apply large-scale management and disposal best practices diverting the vast majority of our waste from the landfill. The production processes of our industrial plant produces waste that is separated and received by appropriately licensed professionals for overall management. Waste separation is carried out during production in order to achieve a high level of recycling and recovery. Recyclable and non-recyclable materials are segregated and placed on specific bins used by partner companies. The following table presents the categories of material separation, and their method of disposal as well as the results from the waste management system:

3.Improving our environmental footprint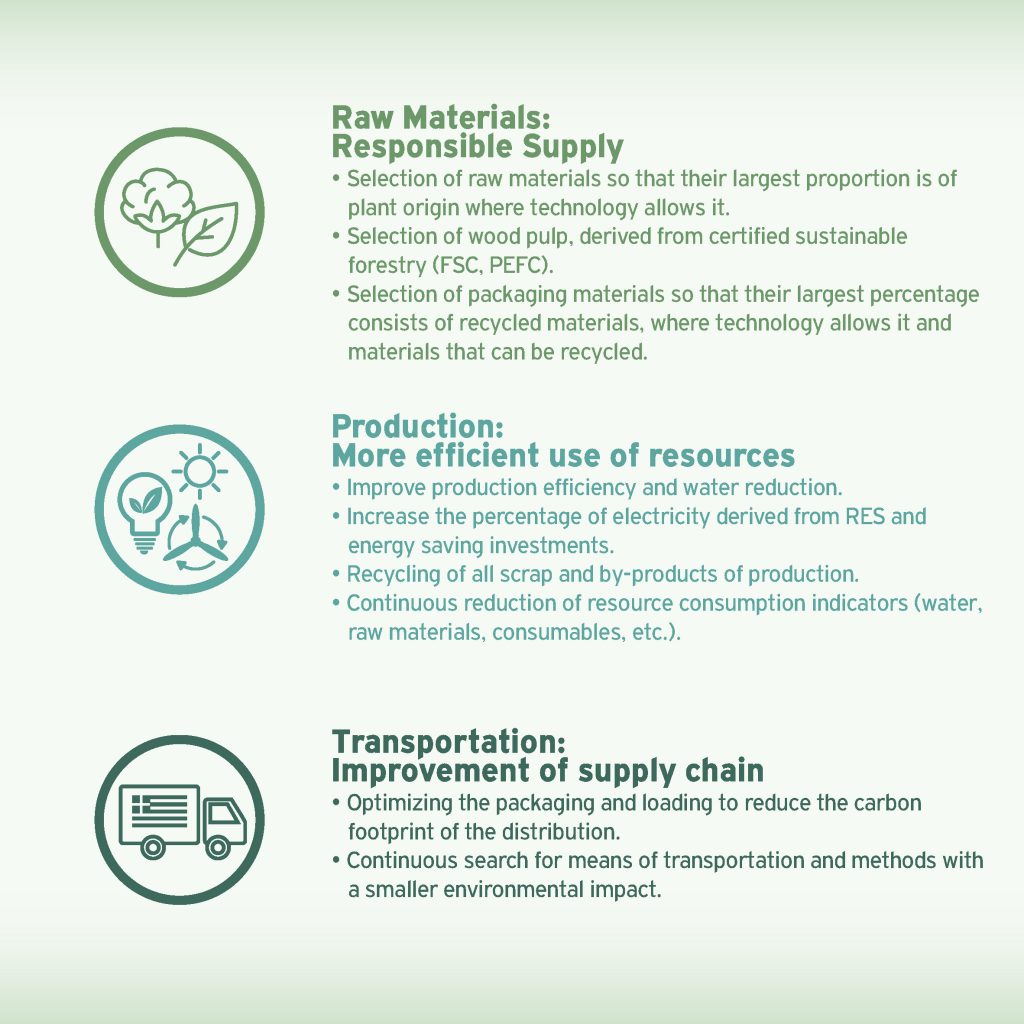 4.Cerifications
MEGA, proving in practice its commitment to the Principles of the Circular Economy, received the international certification Zero Waste to Landfill at "Gold" level, as in 2020 its production unit achieved 99% recycling and Energy Recovery.
MEGA continues its dynamic investments in circular economy:
by reducing the quantities of its waste from the production process per product unit
by increasing the recycling of materials in closed loops, reintroducing them into production
by maintaining and developing new contracts for responsible waste management (recycling, energy recovery, etc.)
by applying a strict separation at source system, while providing training on its employees on regular basis.
As a result, MEGA contributes actively on the achievement of Sustainable Goal 12 regarding the Responsible Consumption and Production (SDG 12).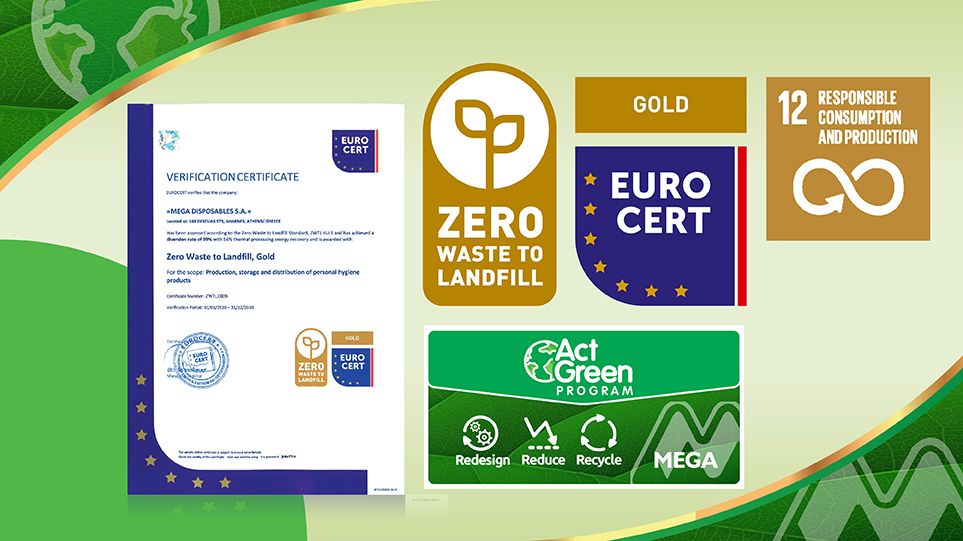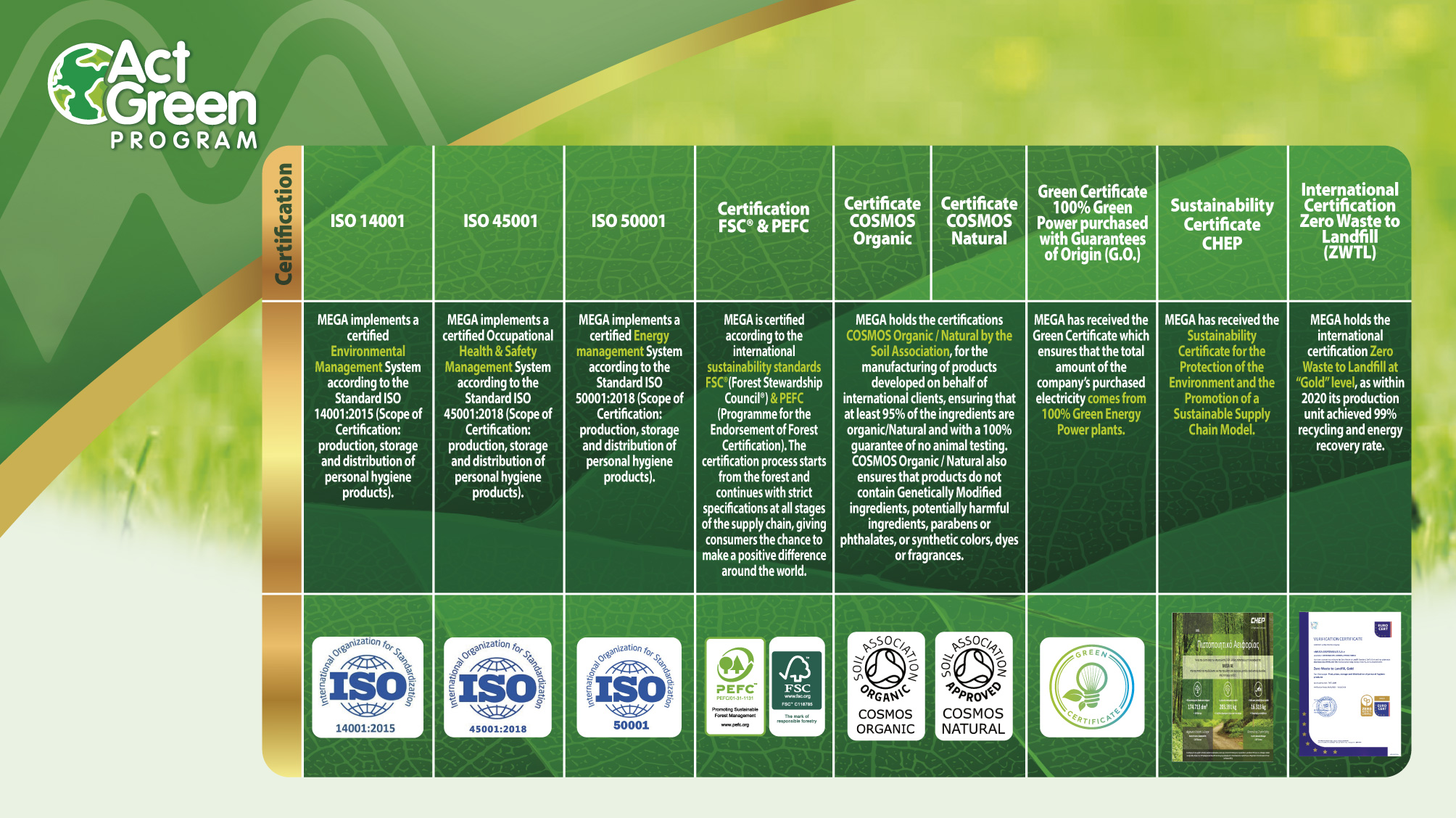 Based on this concept we have developed the "Act Green Program: Redesign – Reduce – Recycle", which aims to promote sustainability through the substantial redesign of our activities / products (Redesign), adopting Circular economy principles (Recycle), achieving significant levels of recycle and resource savings (Reduce). Find out more, here.
Return to articles