Actions of Care for the Environment
FSC™ Certification
With daily actions of care, we support the maintenance of a sustainable environment for future generations!
100% Greek company MEGA, invests systematically, with sense of responsibility in actions and programs aimed at improved management of natural resources. Recognizing, therefore, that raw materials are not inexhaustible, MEGA aims to make efficient use of the limited natural resources, adopting continuous initiatives, beyond those required by legislation, to reduce the company's environmental footprint.
Sani Sensitive products have been FSC™ (Forest Stewardship Council™) certified. The Forest Stewardship Council™ (FSC™) is a global, not-for-profit organization dedicated to the promotion of responsible forest management worldwide. FSC™ defines standards based on agreed principles for responsible forest stewardship that are supported by environmental, social, and economic stakeholders.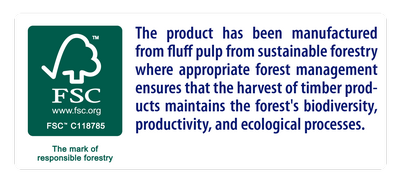 Sani Sensitive products are FSC™ certified as the fluff pulp used as raw material for their production comes from forest management areas in accordance with FSC™'s environmental, social and economic standards.
This certification demonstrates the company's continued commitment to safeguard the environment through sustainable forest management.
The certification process begins at the forest and continues with strict standards through all stages of the production chain, ensuring for consumers that they are buying environmentally friendly products.
The goal of MEGA is both to eliminate damage to the fragile ecosystem of the planet, as well as to take important initiatives for its' protection saving on natural resources, inspiring with its action and sensitizing its people to this direction.
Return to articles